In order to truly empower the locals in Kenya and to best understand the needs of the community, our goal is for all of our programs in Kenya to be led by Kenyans.  The folks on our team do an amazing job of pouring out passion into the people we serve in each program.
Meet Our Team:
Naomi Madaga, Administrative Director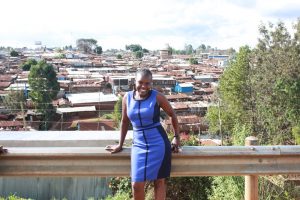 Naomi wears a lot of hats at Grain of Rice Project.  She manages our artisan team and oversees the production of all of our fair trade pieces.  She helps track inventory, ships products, and keeps us organized on a daily basis.  Naomi has a servant's heart and works very hard to make all our programs run successfully behind the scenes.  She also helps co-teach our Girls Empowerment Program.
Collins Ambani, GORP Kids Director
Violet Ambani, GORP Kids Teacher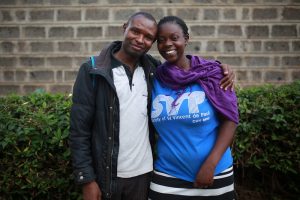 Collins is one of the most joyful people you'll ever meet, and he uses his energy and love for children to lead our kids program.  Collins plans weekly lessons centered around creative, critical thinking activities that are taught from a Biblical perspective to the children from Kibera Slum.  Collins is also our parent coordinator to keep parent volunteers engaged in our programs at GORP.   Additionally, Collins helps lead devotions with our artisan team and leads Saturday morning devotions with our footballers.  Violet is his sweet, caring wife who also assists with teaching in our kids program.  She is a great helper with a humble, patient heart and the co-teacher for our Girls Empowerment Program.
Mark Okoth, GORP Kids Teacher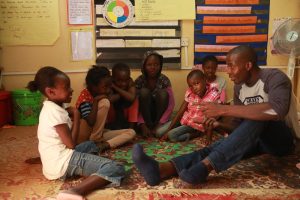 Mark is also part of our teaching team.  He has a passion for helping others to grow their faith and has a gift of being able to explain things to children in an easy way that they understand.  He is excellent with motivating kids to succeed.