GORP Kids Program meets three times per week after school and then again on Saturdays. Weekday meetings focus on tutoring, reading, and Bible teaching. Saturday's program includes a more in depth teaching of the Bible and worship, as well as a mix of literacy, sports, and art programs. GORP Kids Program also provides lunch for the students on Saturdays.
The children in GORP Kids face many challenges. In Kibera Slum and throughout Kenya, people often struggle with tension between various tribal groups. GORP Kids works to unite kids from various tribes and celebrate their similarities and differences. Another struggle for kids is the health hazards they face daily. Although the government has begun implementing a small and limited trash collection program, there is still widespread littering and mounting piles of trash. With no running water or flushing toilets, Kibera has raw sewage running everywhere through its dirt paths. Residents must pay for water and carry it in heavy jerry cans from various water taps around the slums back to their homes. Therefore, GORP Kids is making good hygiene and hand washing a primary focus of its ministry.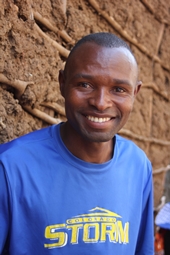 OUR STAFF
GORP Kids Program is directed by Collins Ambani. Collins has a background in early childhood education and spent over two years volunteering with us before joining our staff. He has an infectious joy, a humble heart, and loves singing with the children at GORP.  Additionally, Teacher Violet and Teacher Mark make up the rest of our teaching team.  They are patient, energetic, and want to see our kids succeed.
 
BECOME A GORP KIDS SPONSOR
Would you like to make a life changing impact upon a child in Kenya? Grain of Rice Project is supported by generous sponsors like you.  When you become a GORP Kids Sponsor through a $20/month donation,  you provide Saturday lunches, caring and compassionate staff, a safe building, supplies and materials and new opportunities.
CLICK HERE TO MAKE A DONATION
Interested in becoming a child sponsor or GORP Kids Sponsor?